Press Releases
Congressman Scott Perry Visits Precision Custom Components in York, PA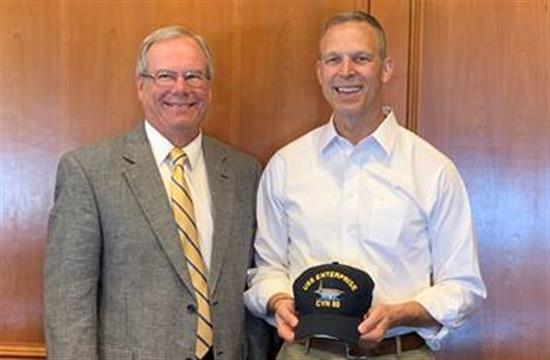 L to R: Gary Butler, P.E., President & CEO of Precision Custom Components, LLC, Congressman Scott Perry, PA-10
York, PA — Congressman Scott Perry (R-PA-10) visited Precision Custom Components while in York to see firsthand the skilled jobs and business that the production of U.S. Navy aircraft carriers brings to the region. Precision Custom Components manufactures Navy aircraft launch and recovery equipment for the U.S. Navy aircraft carrier program.

With the recent announcement of the U.S. Navy's contract award to Huntington Ingalls Industries for the construction of the next two Gerald R. Ford-class aircraft carriers, CVN 80 and CVN 81, it's an exciting time for Precision Custom Components and the work that the company does for the construction of these ships. The purchase of two aircraft carriers at once will stimulate the aircraft carrier supplier base of more than 2,000 suppliers in 46 states, allowing businesses to phase in work more efficiently.

Currently, 137 aircraft carrier suppliers in Pennsylvania contribute more than $369.8 million worth of parts and services for the aircraft carrier program per vessel. This industrial base work provides more than 4,000 jobs (directly and indirectly) for the men and women of Pennsylvania.

"I appreciate the opportunity to visit again with Precision Custom Components and see how they're bolstering our National security through their work in York. Rebuilding our military is critical, and it's also creating quality, family-sustaining manufacturing jobs here at home," said Congressman Perry. "We'll continue to fight for policies that sufficiently train our workforce to meet the demands of these 21st Century manufacturing jobs, and keep our Nation safe."

During his tour, Congressman Perry met with the employees at the facility to discuss the unique skills they contribute to the industrial base that supplies parts to the U.S. Navy aircraft carrier program and the technological advancements at the company such as several new large machine tools recently purchased and installed by PCC to support its defense business.

"We appreciate Congressman Perry's interest in defense, energy, manufacturing, tax policy, and PCC with his visit permitting us to showcase the sophistication and quality of work performed by our employees for the U.S. Navy," Precision Custom Components' President & CEO Gary C. Butler said. "Our Navy has repeatedly demonstrated critical contributions to our defense with their maintenance and new ship construction expenditures supporting U.S. industry, especially small businesses like PCC. Therefore, PCC urges Congress' continued support of Navy Programs and particularly aircraft carrier and submarine maintenance and new construction schedules on a timely and fully funded basis."