Press Releases
Congressman Scott Perry Calls for End of August District Work Period
Washington, D.C. –
Congressman Scott Perry joined fellow members of the House Freedom Caucus to call for an end to Congress's annual August District Work Period, given numerous looming deadlines on Capitol Hill ranging from the debt ceiling to the federal budget, as well as policy objectives such as the repeal and replacement of the Affordable Care Act/Obamacare.
"I've publicly called for postponing or cancelling the August district work period since early June – which is the right thing to do given the outstanding items on the Congressional agenda," said Congressman Perry.
The move comes as the Senate announced yesterday that it will postpone the August district work period to the mid-month for additional time to consider legislative proposals and presidential nominations. Leadership in the U.S. House has yet to announce a similar decision.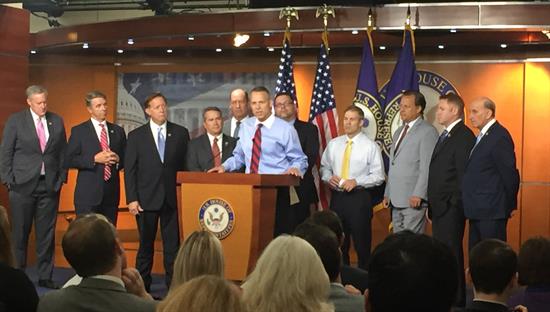 Congressman Scott Perry (PA-04, center) speaks during a press conference with the House Freedom Caucus urging the cancellation of the August District Work Period in Congress, given looming deadlines on essential issues such as the debt ceiling.
In addition to participating in today's press conference, Congressman Perry agreed to co-sponsor the Stay on Schedule Resolution, H. Res. 43, which would ensure that Congress passes all appropriations bills prior to adjourning for future August District Work Periods. The resolution is expected to be introduced in the near future.
"Establishing a budget is the fundamental, constitutional responsibility of the U.S. House of Representatives, and it's not something we should take lightly. With our country 20 trillion dollars in debt, we can't leave our budget on auto-pilot. Staying in session is the first step to making sure our responsibilities are fulfilled," Perry concluded.